Capability Feature: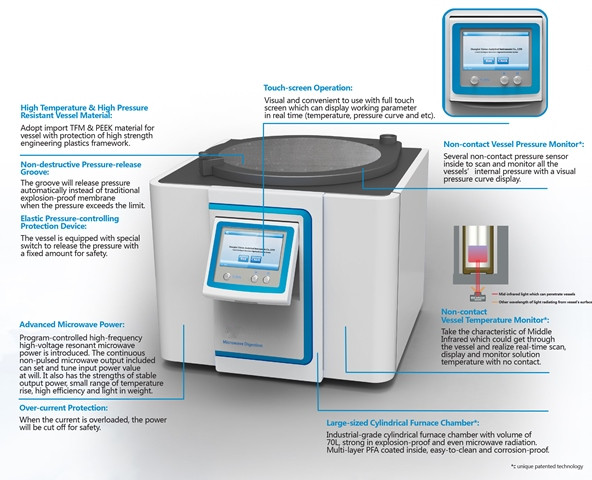 Technical Parameter:
Power & Frequency: Program-controlled High-frequency Resonant High-voltage microwave power; Input power:3000W; Industrial-grade Double -magnetron Microwave Output power, 0-2400W (Control at Will); Microwave frequency, 2450MHz.
Microwave Furnace Chamber: Stainless Steel Cylindrical Furnace Chamber Volume, 75L; Multi-layer PFA Coated Inside; Long Product Life Time and Easy-to-clean.
Volume and Number of Sample: Vessel Volume, 100mL/Vessel; 1-16 Vessels at one time.
Sample Input Mode: Lift-type Sample Input Platform: Overhead-type rotatable furnace door design, easy to input and take out vessel with lift-type sample tray.
Pressure Monitor: Non-contact Pressure Sensor Monitor, Developed from technologies of Phial-form Metal Clips with High Elasticity, Optical Ranging System etc. The Pressure Sensor could real-time scan and monitor every vessel's pressure with a visual pressure curve display.
Temperature Monitor: Special Non-contact Middle Infrared Temperature Monitor, real-time scan and monitor ample solution temperature with a visual temperature curve display.
T-P Measurement: Temperature Range, Room Temperature~400℃ (±1℃); Pressure Range, 0~10Mpa(±0.01MPa)
High-Pressure Digestion Vessel: Frame-style High-pressure Digestion Vessel, PEEK for exterior vessel, TFM for inner vessel; Working Pressure, 0~6Mpa, Maximum Pressure≥15Mpa; Working Temperature, 0-250℃, Maximum Temperature≥300℃
Working Mode:1) Able to create, edit and save more than 256 kinds of digestion methods. 2) Maximum 10 digestion steps setup for every method. 3) The intelligent heating rate control mode and thermostat control mode are built in.4) The automatic cooling mode is also built in with the function theat cooling stop condition is adjustable.
Multiple safety Precautions: More than 10 active and passive security functions including: 1) Industrial-grade Cylindrical Furnace Chamber and Overhead-type Explosion-proof Door Design. 2) Real-time monitor of temperature and pressure for every digestion sample. 3) Over-pressure alarming limit. 4) Elastic pressure-controlling protection device. 5) Overheat and over-current protection. 6) Abnormal noise detection protection. 7) System failure self-check and warning. 8) High-temperature and high-pressure resistant framework for digestion vessel. 9) Non-destructive pressure-releasing groove. 10) Three powerful centrifugal exhaust fans (exhaust capacity, 5.8m3/min) to protect operator from harmful gas.
Intelligent Control: Visual and convenient to use with full touch screen, Display working parameter any in real time (temperature, pressure curve and etc); Standard RS232 interface provided for the connection with PC.
Other Parameter: Power, 110/220V AC, 50/60Hz; Size, 650×630×570mm; Net weight, 70Kg.